Developed specifically for heavy-duty commercial kitchen use in restaurants, hotels, food service establishments, clubs, and grocery chains, the Chef'sChoice Model 2100 is the ideal, money-saving alternative to the knife sharpening service … and it shows up to work every day! - Revolutionary, 3-Stage commercial sharpener with EdgeSelect® lets you choose the edge to match the cutting task - Fast! Diamond abrasives and ultra-fine stropping stage for amazingly sharp edges in seconds - Comes with rugged sharpening module for 20-degree class knives, detaches easily for cleaning and sanitizing in the sink or commercial dishwasher - Sharpens all 20-degree class knives, straight edge and serrated—kitchen knives, butcher knives, pocket and sporting knives, even cleavers. - Edges stay sharp up to 3 times longer! Advanced Trizor-Plus™ triple-bevel edge lasts and lasts.
Edge Guide: Double-Bevel Triple-Bevel 15 Degree Edge 20 Degree Edge 15 and 20 Degrees Single-Sided CrissCross
(00505)
| | |
| --- | --- |
| SKU | 00505 |
| Barcode # | 0087877021086 |
| Brand | Chef's Choice |
| Color | |
Be The First To Review This Product!
Help other Stax Appliances users shop smarter by writing reviews for products you have purchased.
More From This Category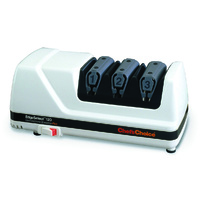 Chefs Choice Diamond Hone Edgeselect Electric Knif
$319.95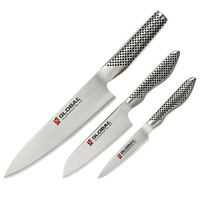 New Global 35TH Anniversary 3 Piece Set Knife 3pc
$260.99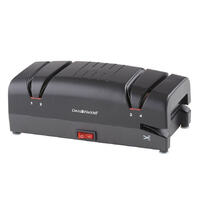 Davis & Waddell Essentials Electric Knife Sharpene
$62.95